Top 7 Universities and Colleges in Canada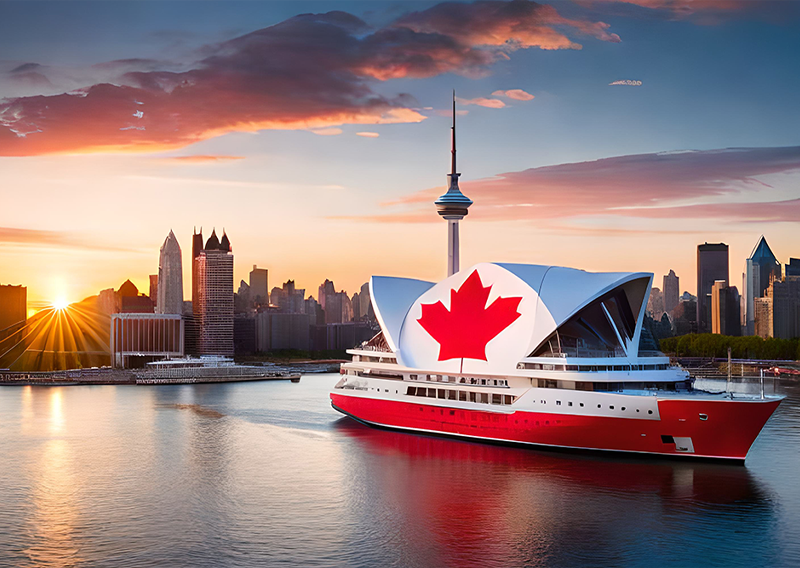 Canada is a popular choice among international students as a desirable destination for education. It consistently ranks as one of the world's top countries for education and quality of life. Canada offers a welcoming environment for students, with thousands of immigrants calling it home, providing opportunities to explore diverse cultures and traditions while receiving a high-quality education.
Compared to countries like the UK and the US, Canada has an affordable fee structure, and its education system emphasizes research supported by the Canadian government. Additionally, the country offers the Post-Graduation Work Permit Program (PWPP), which enables students to work and remain in Canada for up to three years following the completion of their studies. Below are some of the top Canadian universities preferred by international students, which provide excellent education quality.
1. University of British Columbia
Established in 1908, the University of British Columbia boasts some of Canada's most stunning campuses. Its largest campus, located in Vancouver, is set against the backdrop of the Pacific Ocean, while its second campus, nestled in the unique Okanagan wine region, is just a few hours away. However, the University of British Columbia doesn't only make our list for its incredible locations; it is also considered one of the world's leading research universities, ranking 45th globally in the QS World University Rankings and third in Canada.
The university is also home to a top subatomic physics research lab with the world's largest cyclotron, a particle accelerator. Moreover, the University of British Columbia is North America's most international university, with students from 166 countries enrolled and a regional office in Hong Kong.
In terms of living costs, Vancouver is Canada's most expensive city, with the average monthly cost of a one-bedroom flat in downtown Vancouver being around CAD $2,050 per month.
2. University of Ottawa
What could be a better place to pursue your studies than Ottawa, the capital city of Canada? The University of Ottawa, situated on the border between Ontario and Quebec, is the world's largest bilingual university, founded in 1848 and currently offers over 450 programs in French and English.
The University of Ottawa campus is home to many historic buildings, is located close to the famous Rideau Canal, and was ranked number 6 in Canada for sustainability in 2020, according to the UI Green metric World University Rankings. In recent years, the university has also invested in five new state-of-the-art facilities and research labs, including an innovative STEM complex and a black box theater.
3. University of Alberta
The University of Alberta is situated in and around Edmonton, the capital city of Alberta province, and was established in 1908. The university comprises 18 faculties spread across five campuses and enrolls students from 156 countries.
According to the QS University Rankings, the University of Alberta is ranked sixth in Canada and is also recognized among the world's best universities by the Centre for World University Rankings for various subjects, including forestry (5), geology (5), and paleontology.
Interestingly, a few hours from the university lies Dinosaur Provincial Park, which UNESCO has acknowledged for containing some of the most significant fossils discovered from the "Age of the Dinosaurs."
In terms of living costs, a one-bedroom flat in downtown Edmonton costs an average of CAD $1,171 per month.
4. Dalhousie University
Located in Halifax, Nova Scotia, Dalhousie University is a research-intensive institution that was founded in 1818. With over 190 undergraduate and graduate programs, the university is among the 15 leading Canadian research universities, known as U15. International students account for almost 20% of the student population at Dalhousie.
The university has four campuses, including three in Halifax and one in Truro, which is a couple of hours away. Nova Scotia province, where Dalhousie is located, is an attractive destination for international students.
The province is situated in the heart of the Atlantic maritime region, offering breathtaking ocean views, lively nightlife, great live music, and friendly people. In 2021, Halifax was even named the best Canadian city to live and work remotely in by the Canadian magazine Maclean's.
In terms of living expenses, Halifax is a reasonably affordable city in Canada. For instance, a one-bedroom flat in the downtown area costs approximately CAD $1,415 per month.
5. York University
York University, established in 1959, is Toronto's third-largest university with 11 faculties. It offers an array of programs in diverse fields, including psychology, education, and business. Financial Times ranked its Executive Master of Business Administration program number one in Canada and 21st worldwide in 2020.
The university has a main campus in Toronto and a smaller bilingual campus nearby. York University has also established a Hyderabad campus, where students can complete their two-year Master of Business Administration (MBA) program in both Canada and India. Additionally, the university has a unique Las Nubes EcoCampus, located on 414 acres of protected land in Costa Rica.
The cost of living in Toronto can be expensive, with a one-bedroom flat downtown costing approximately CAD $2,100 per month on average. However, living outside the city centre near York University may offer more affordable rental options.
6. University of Manitoba
Situated in the heart of Canada, in Winnipeg, the University of Manitoba was established in 1877 and is the oldest university in Western Canada. With over 100 programs available, more than 20% of its students are international, and the university has one of the most significant Indigenous student populations in the country.
The University of Manitoba spans across two campuses, with the largest one spread over 692 acres and featuring over 60 buildings, and a second campus in the downtown area, focused on health sciences.
The university is also home to Smartpark Research and Technology Park, an innovative hub with ten buildings and 20 companies working in diverse fields like ICT, engineering, health, and biotechnology.
For those seeking affordable study options, Winnipeg is an excellent choice, with the average rent for a one-bedroom flat downtown costing only CAD $1,077/month.
7. McGill University
Located in Montreal, Quebec, McGill University is considered one of Canada's most prestigious universities, ranked 2nd in the country and 31st in the world by QS University Rankings.
Founded in 1821, it has been ranked the best medical school in Canada by Maclean's Magazine for 16 years. With research partners in 99 countries, the university has a global research focus, emphasizing seven main themes.
McGill University has two campuses; the downtown campus is full of historic buildings and green spaces, while the second is located on a vast, 1606-acre space, about 45 minutes from the city. With its vibrant arts, culture, and diversity, Montreal is considered the world's best student city for international students this year – making it an excellent place to study.
Cost of living: Montreal is an affordable city to live in. For example, a one-bedroom flat downtown costs about CAD $1,245/month on average.
These are among the many universities that offer top-notch education and hold an excellent reputation among international students. If you're considering pursuing higher education in Canada, don't hesitate to contact us. At Expert Education and Visa Services, we have been assisting students in achieving their academic aspirations since 2003. We are a leading education consultancy in Nepal and will guide you through the process of studying in Canada.
Top University courses in Australia is within your reach.
Connect with us.